Download PDF
TSCA Reform Implementation Seminar: Impacts and Best Practices for the New Chemicals Law
Wednesday, February 7, 2018
1:30 p.m. – 4:30 p.m. (EST)

Register Today

The Acta Group (Acta®) is pleased to participate in the upcoming "TSCA Reform Implementation Seminar: Impacts and Best Practices for the New Chemicals Law," presented by the Michigan Chemistry Council. This valuable seminar features a panel of industry practitioners, as well as talented legal experts including Lynn L. Bergeson, President of Acta and Managing Partner of Acta affiliate Bergeson & Campbell, P.C. (B&C®), who will present on Toxic Substances Control Act (TSCA) implementation and upcoming activities, as well as next steps. The Practitioners Panel will bring together four representatives from chemical and automotive companies to discuss best practices for supply chain notification, confidential business information, new chemical registration, existing chemical prioritization, and risk evaluations. Registration is available for in-person attendance and via webinar.

Speakers include:
John Dulmes, Michigan Chemistry Council
Charles M. Denton and Joel T. Bowers, Partners, Barnes & Thornburg LLP
Lynn L. Bergeson, Managing Partner, Bergeson & Campbell, P.C.
Johnathan DiMuro, Regulatory Services Leader, The Dow Chemical Company
Carol Sunman, Chemical Registrations Team Leader, BASF Corporation
Kathryn Straccia, Global Product Stewardship Regulatory Environmental Safety, Yanfeng Automotive Interiors
Anthony Noce, Vice President, EHS Management Systems, Tetra Tech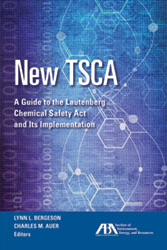 The first 20 in-person registrants will receive a complimentary copy of New TSCA: A Guide to the Lautenberg Chemical Safety Act and Its Implementation, authored and edited by Lynn L. Bergeson and Charles M. Auer, Senior Regulatory and Policy Advisor at B&C, and co-authored by members of B&C's outstanding TSCA practice group. Readers of New TSCA: A Guide to the Lautenberg Chemical Safety Act and Its Implementation will gain an appreciation of the fundamental shifts in the requirements and approach to chemical management under new TSCA, and will benefit from the thorough analysis of a number of the provisions, including those relating to definitions, testing, review, and regulation of new and existing chemicals, information reporting, confidential business information (CBI), preemption, and fees, among others. A 15-page Executive Summary of the book is available on the ABA website.